Mattia Pietro Balbo
(RTDb) Assistant Professor
SSD: L-ANT/03 - roman history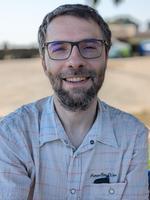 Contacts
At
Dipartimento di Studi Storici
Corso di laurea in Storia
Corso di laurea magistrale in
Archeologia e Storia antica
Cultural Heritage and Creativity for tourism and territorial development
Language Technologies and Digital Humanities
Curriculum vitae
Curriculum Vitae (0.1 MB)
Research groups
Office hours
Il giovedì dalle 16 alle 18. Sede: Palazzo Nuovo, piano IV, stanza 109
Si prega di avvisare prima via email, scrivendo a: mattiapietro.balbo@unito.it
Durante le lezioni del secondo semestre (febbraio-maggio) il ricevimento inizia alle ore 17.
---
Thursdays from 4 to 6 pm. Place: Palazzo Nuovo, 4th floor, room 109.
Please previously email to: mattiapietro.balbo@unito.it
During the 2nd semester classes (February-May) office hours start at 5pm.